Quick Start
Below steps show how to use WO Mic over Wi-Fi transport. Before proceeding, check and confirm your phone and PC connect to same WiFi router.
1
Start server on phone
Run below steps to start server on Android phone:
Launch WO Mic app on phone. On the action bar, tap
In the pop menu, tap Settings
In Settings view, tap Transport and select Wi-Fi as transport.
Back to main view. Tap on the action bar to start server. If any permission requests, grant them.
Launch
WO Mic
app on iPhone. Tap
Start
to start server. If any permission requests, allow them.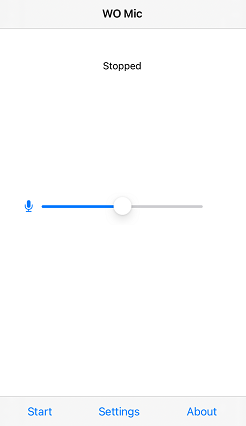 Once the server has been successfully started, it's ready to accept connection from client. Phone IP address (e.g. "10.0.2.16") is displayed on the app panel. You will use it in next step to make connection from client.
2
Connect from client on PC
Your PC should connect to the same Wi-Fi router as phone; otherwise you will meet connection failure. Follow below steps to connect:
Press Windows key
Type WO Mic in the search box
Launch WO Mic Client
Select Connection -> Connect...
In connect dialog, select Wi-Fi as transport and enter phone IP address.
Click Connect.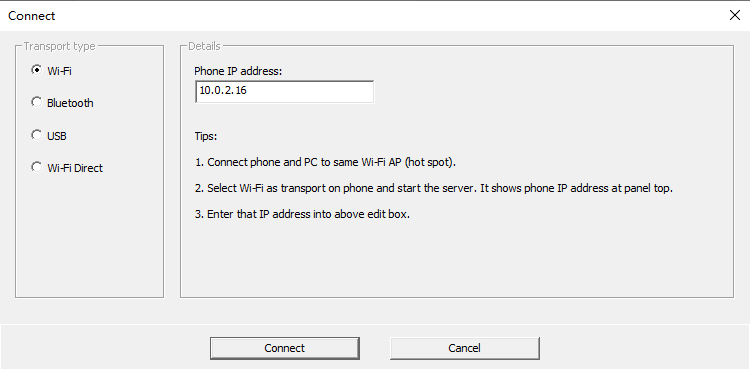 If everything goes well, server and client will show to be connected in a few seconds .
3
Use WO Mic device
Now you can select WO Mic Device as audio input for your game, recording, chat or any other applications.
Some applications may not allow you to select audio device. For that case, you can set WO Mic device to be default audio recording device in Windows settings.